Before sending out Save The Dates, wedding announcements and especially invitations, you want to verify the correct addresses for your guests! Stamps are now $0.49, so needless to say, haste makes waste. I used Google Forms and it has to be one of Google's best hidden gems! In order to do this, I created a Facebook group for our Wedding and added all of the guests that have facebook pages. I asked everyone to fill out our RSVP form. I collected proper name spellings, mailing addresses, email addresses, phone numbers and +1 info from my guests by having them fill out the form I'd created in Google Forms. You can customize the form to your exact liking, then have all of the responses organized by columns and sent to your Google Drive Spreadsheet! From there, each time a guest fills out your form, the sheet automatically updates, so you can keep an accurate head count!
When it came to mailing my Save The Dates, all I had to do was print the address labels straight from my spreadsheet! No carpal tunnel for me!!!
Also, since most people are digital these days, it will save you tons of time and money by collecting email addresses! You can keep your guests updated through cute newsletters and some people even do their final invitations online. I've seen this practice called tacky and non-traditional, but since when is using the Internet tacky!!! Below is a detailed explanation on how to use Google Forms!
Happy Wedding Planning and Check out our form for Inspiration!
Soon, I'll be discussing how to use Google Voice to collect RSVP's via text message and voicemail, so be sure to Subscribe to the Blog so you don't miss a thing!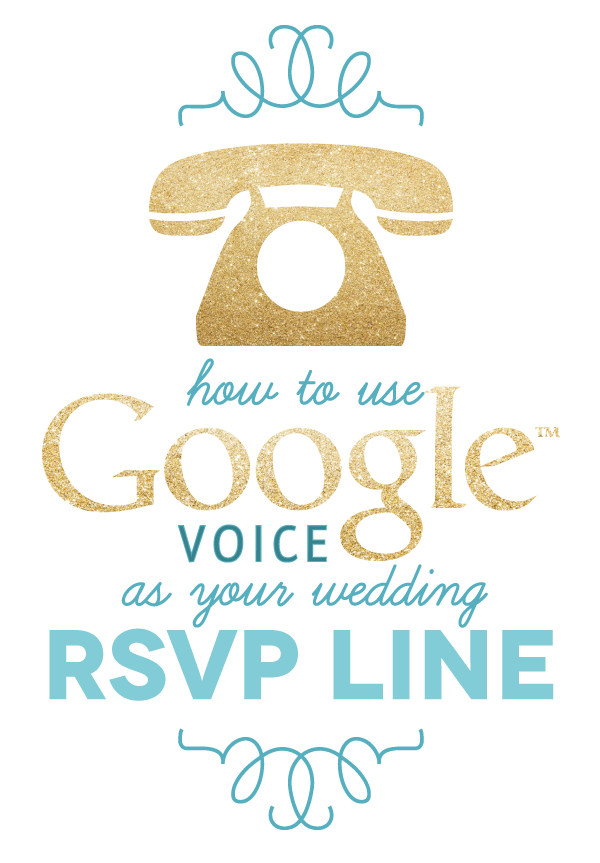 Create your RSVP list using Google Forms
You can plan events, make a survey or poll, give students a quiz, or collect other information in an easy, streamlined way with Google Forms. You can create a form from Google Drive or from an existing spreadsheet that can record the responses to your form.
Go to docs.google.com/forms.
In the bottom right, click Plus .
A new form will automatically open.
You can add any questions you want in the form template. You can also organize your form by adding headers and dividing your form into several pages. Learn more about editing your form.
Note: Create a form in Google Drive by going to drive.google.com and clicking New > More > Google Forms.
Create a form from a spreadsheet in Google Sheets
To poll, survey, quiz, or otherwise collect information using a form from a spreadsheet in Google Sheets:
While working with a spreadsheet, click Insert > Form.
A message will display at the top of the page notifying you that a new form has been created
To begin editing your form, click Add questions here in the message.
To get rid of this message and continue editing your spreadsheet, click Dismiss. Note: If you dismiss this message, you can edit your form at any time. Click Form > Edit form.
A new form will automatically be created. A new tab will appear at the bottom of your spreadsheet labeled "Form responses,"  where all responses to your form will be added.
After you've created your form, you can add and edit questions, headers, and page breaks. You can also choose how to collect responses to your form.
Comments